IN MEMORY OF JAMES STEFOFF
PATRON DAY CELEBRATION 2018

Moments from Children's Christmas Party 2017

Visitation of the Deputy Minister of Foreign Affairs of Bulgaria Mr. Georg Georgiev
Sunday, December 3, 2017

Children's Christmas Party
Sunday, December 17, 2017

Join the Church Choir at
Sts. Cyril & Methody Cathedral.

1910 – 2018
PROUD OF OUR 108 YEAR HISTORY

CHRISTMAS MESSAGE FROM FATHER VESSELIN ARNAOUDOV
"That is why, the Lord Himself will give a sign: behold, the Virgin will conceive and bear the Son, and call Him the name of Immanuel "(Isaiah 7:14).
Beloved in the Lord brothers and sisters,
Happy Nativity of Christ!
With the mercy of God this year again we welcome the Blessed Feast of the Nativity of our Savior and Lord Jesus Christ.
On this day, the ancient prophecies come true - the Only-Begotten Son of God breaks from the Divine, and accepting human flesh from the Virgin, humbly rests in the Bethlehem crèches.
He will be one of us. He will walk our way and life and will know our works, sufferings, joy and sorrow, friendship and betrayal. Like a sacrificial Lamb, He will lay His soul for the forgiveness of our sins, and will eventually rise victoriously as God.
The gentle Virgin and the righteous and wise carpenter will be His family, for God wished to be with us!
Brothers and sisters,
Many wonder why God is descending from Heaven, why is He clothed in human flesh, why does He accept the Cross from human hands?
The Lord descends to the Earth to open the Heaven to us, once closed for the sake of the first man's sin.
The Lord comes down to bring peace between God and man, between the Earth and Heaven.
The way of His descent is the way of our ascension.
God came down to show us how precious a man is, for whom God didn't spare His Only-Begotten Son, but He has given Him, that anyone who believes in Him should not perish but have eternal life (John 3:16).
May our joy be full on this Solemn Day of Nativity!
May God live in our hearts and deeds!
Let us appreciate and honor Him - the Creator of everything and not forget to love the man, our neighbor, with whom we share both good and bad during our days on this earth. That is how we will truly fulfill our Christian and human purpose and will celebrate with a pure joy "... because today is born in the city of David a Savior, who is Christ the Lord" (Luke 2: 10-11).
Have a Happy and Blessed Nativity of Christ, as well as the accompanying church and civil celebrations!

On the 25th of December at 10:00 a.m., let us celebrate with our presence the Solemn Holy Liturgy and pray together in the Temple that God, our Lord bless us with health, joy, success, Christian love and humility. Amen!

Parish Priest and Archbishop Vicar:
Ikonom Vesselin Arnaoudov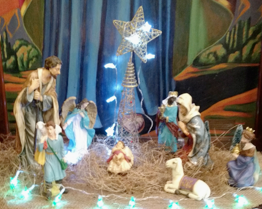 Helen and Hope Chicules – Honourable Members
in Good Standing
It has been a tradition of our church to recognize our longstanding and active members, who have served the church for many years and whose contributions have had a big and lasting impact in the life of our Cathedral.
This year at our Patron Saints' Day Celebration, we have invited Helen and Hope Chicules to honour them for their many years of work and dedication to Sts. Cyril & Methody Cathedral.
The connection of Family Chicules with the Church began in the distant 1912, when Helen and Hope's father Eftim, then a 14 year old boy came to Toronto with his father Ivan. Later, Eftim brought his brother Michael with his wife Vasilka to Toronto. The family had 4 sons, one of which was James Chicules, known to us as the biggest sponsor of our Cathedral.
Having established his business, Eftim went back to Macedonia, where he married Alexandra. Due to medical reasons, she had to go to Bulgaria and stay there for 2 years. When she arrived in Toronto, she brought from Bulgaria the recipe of a very popular dessert, called "revane", which she gave it to the Ladies Auxilliary and it was used at the Bazaars with a great success.
Eftim came back to Toronto and made the papers to bring his wife Alexandra here. When she came, they had their two daughters - Helen and Hope, who have been very involve with the church from the beginning.
Helen was the first unpaid secretary with Father Haralampi Elieff, when the church was at Trinity Street.
Later, when the church moved to Sackville Street, Helen and Hope Chicules continued to be very active in organising various events of the Youth Group and Ladies Auxilliary.
Firstly, Helen took part in the Church Ladies Basketball Team, playing other churches. It was a big success and this story of our church appeared in a Government Archive for "Sports for First Generation Canadians", written by Helen Chicules.
Helen worked very hard to implement some of her ideas, which proved to be very successful in raising money for the church with the First Fashion Show in the church banquet hall.
In 1964 to honour her both parents with a Special Panahida, Helen decided to serve coffee along with pastries.
This was the first time coffee was served after the Church Service and has continued to this day, which is a legacy to remember.
Later, at various Bazaars a Hand Bag Sale and a Hot-Dog Sale were very well received.
Helen was the person writing Social Part of the Bulletin for Father Jordan Dimoff, especially organising a Dance, called "Getting to know You", trying to get young people back to the church. She also helped with the mailing of the Church Bulletin.
Helen and Hope worked very hard organising a Shower for raising money, when Father Dimitar Popov and Popadia Zlatka came to Toronto and later for the Celebration of their 50th Anniversary.
They regularly helped at Bazaars and at Church Funeral Lunches, working as volunteer waitresses.
In their devotion to the Church, Helen and Hope Chicules have never sought popularity and prominence.
That's what their father Eftim taught them, and they will always remember his words: "TO WORK FOR THE CHURCH IS NOT TO PROMOTE YOURSELF, BUT TO PROMOTE THE CHURCH!"
Over the years and to this day, Helen and Hope remain dedicated to St. Cyril and Methody Macedono-Bulgarian Orthodox Cathedral.
The Church continue to play a strong role for Helen and Hope, as a place of belonging, a place to renew their spirits, a place to gather and meet friends, old and new, a place to be of service. 
Their faith, loyalty and commitment throughout their lives are good example to follow.
Thank you Helen and Hope!
May God bless you and grant you health and more years to come!
May the Patrons of our Cathedra, the Holy Brothers Cyril and Methody guard and protect you always!

ELECTION OF A NEW CHURCH EXECUTIVE COMMITTEE GENERAL MEETING – SUNDAY, JANUARY 28, 2018
On January 28, 2018, His Eminence Metropolitan Joseph has called a General Meeting of the membership for the election of a new Church Executive Committe.
The meeting started with an opening prayer, performed by Metropolitan Joseph and Father Vesselin Arnaoudov, followed by detailed reports, presented by His Eminence Metropolitan Joseph, Parish Priest, Father Vesselin Arnaoudov, President of the Church Committee, Mr. Vangel Angelov and the Treasurer of the Church, Mr. Peter Evans.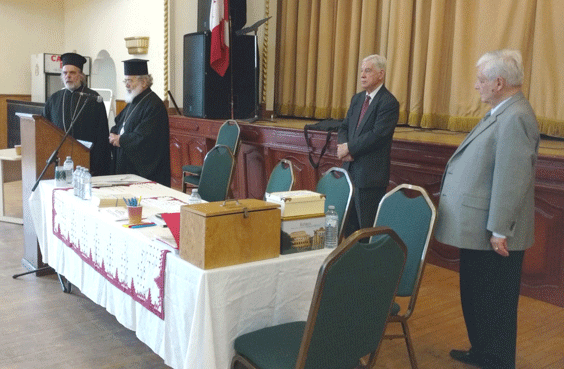 After unanimous acceptance of the reports and the assurances of all parishioners, who verbally declared that they would continue to observe strictly the By-Laws of the Cathedral and the Diocese, His Eminence declared the end of the canonical disorder and announced the beginning of the procedure for the election of a new Church Committee, which was held according to the requirements of the Church's By-Law.
Below is a picture of the newly elected Church Committee with His Eminence Metropolitan Joseph, Father Vesselin and Prezvitera Galya.

The members of the newly elected Church Committee are as follows:
| | |
| --- | --- |
| | |
| Vangel Angelov | President |
| Alexander Karadjov | Vice President |
| Eleanor Michael | Secretary |
| Tzvetanka Karadjov | Assistant Secretary |
| Peter Evans | Treasurer |
| Peter Peroff | member |
| George Persinov | member |
| James Stefoff | member |
| Clare Evans | member |
| Tanya Persinov | member |
| Donna Stefoff | member |
| Dimitrina Nicholov | member |
| | |
With the blessing of His Eminence Metropolitan Joseph, on Sunday, February 4, 2018 (Sunday of the Prodigal Son), Father Vesselin Arnaoudov performed a blessing with Holy Water for the health and success of the newly elected Church Committee, as well as for all Orthodox parishioners for a mutual love and understanding in our Christian families and in the Holy Orthodox Church
Let us wish the members of the newly elected Church Committee to be healthy and to govern the life of the church with love, goodwill and wisdom.
May our more than century old Cathedral affirm itself again, as a holy place for prayers, worship, peace and love among people.


Children's Chriatmas Party
December, 2018
Church Fall Bake-Sale

PATRON SAINTS DAY CELEBRATION 2018

Blessing the new church Committee of Sts. Cyril and Methody Cathedral
February 4, 2018
Holy Theophany and
Blessing of Water

Metropolitan Joseph's visits
at Sts. Cyril & Methody Cathedral:

Sts. Cyril and Methody
Cathedral
Selected videos: